---
4. Work Experience
Fourthly, let's move to the centre right below the summary, where we'll place our "work experience" section. This is, without doubt, the most important part of your C.V, because nothing speaks louder than results.
Remember to arrange your full-time/internship experiences in descending order, starting from your most recent gig.
For the headings, you can choose from 2 formats:
This format works when you've been associated with popular companies in your field. If 7/10 colleagues you talk to are likely to know the name, your brand is powerful enough.
People do care about where you come from, so if you're an ex-Googler or ex-Amazonian, you may use that as a leverage by prioritizing the company:
NAME OF COMPANY: Brief explanation on what it is

Your position :: Start month – End Month (Duration)
To give my example, Fave is a wildly popular e-commerce player in Malaysia, so I placed it up front:
FAVE (Previously Groupon): Mobile Payment App (Fintech)

Social Media Marketing (Intern) :: Dec 2018 – Feb 2019 (3 mos.)
Let's say you're applying for a "marketing manager" position. That would require you to have a wide skillset in on domains- since you'll be managing all sorts of executives in your team. In this case, you want to show that you have a breadth of experience, dabbling in different roles across time. So you want to prioritize that info:
YOUR POSITION: Name of the company

Start month – End Month (Duration) :: Location
Alternatively, assume you're applying to a "design specialist" position, which demands a focus on that one skill. So you may want to show that you've had a consistent track record of working as a designer in many places. This format can be used there, too. It all depends on what kind of positions are you applying for.
---
That was just your headline. Your body copy should be split into 5 bullet points, each no longer than 2 lines:
First achievement: Stats & figures for your personal KPI
Second achievement: Stats & figures for your personal KPI
Third achievement: Revenue or some sort of monetary value
Leadership of a project/initiative (launch or direction/manager)
Cross-cultural collaboration (prove your soft skills)
As we discussed before, you want to avoid making a laundry list of your responsibilities because that's what everyone does. If you want to impress me, show me results.
The first two bullets should contain those action verbs we talked about, loaded with specific numbers, statistics, and timelines (how many months did it take you to achieve this?) instead of generic adjectives that I can't measure quantitatively:
Weak: Created a strong improvement in website traffic through social media
Strong: Increased website traffic from 10k to 50k p.m. through FB Ads in 3 mos.
The third bullet point should ideally have a monetary value: how did you contribute to the bottom line or revenue margin of the company? Because that's the only number everyone really cares about- profitability.
Generated USD20,000 with an ROI of 35% from Facebook Ads

Increased profits on FB ads from 30% of the budget (USD30k) to 70% (USD70k)
Now I understand that this might not be easily calculable for all job roles, so you can swap it with another standard achievement anytime.
The fourth bullet should talk about an project, or event that you took charge of or initiated/founded, so as to show your leadership skills:
Launched the company's official Instagram page; gained 10k followers in 6 weeks.
Spearheaded the yearly corporate event; increased participants from 200 to 600.
The fifth bullet is tricky but crucial; you want to show that you're capable of communicating, negotiating, and collaborating with other people in the company, not just with your own team. So this is about your "soft skills." You want to include them here, but only show them in action.
Why? Because having a separate skills column that just lists generic qualities like leadership, communication, and stress/pressure management – is nothing but a big cliche. All of us think we're good leaders and communicators- but where's the proof?
So a more believable way to impress employers is to subtly illustrate these capabilities in your previous experience. That's what I meant by "show them in action."
These examples should make my point clear:
Collaborated with PR agency to design S.O.P.s for responding to negative comments, which increased customer satisfaction from 90% to 97% in 3 weeks (This shows your cross-functional skills).
Conducted a mentorship seminar for 5 marketing interns to building their social media copywriting skills (This shows your management skills).
With that, we're done with the longest section in a traditional C.V so it can and probably will occupy both pages, just so you know.
---
5. Skillset
Fifthly, sitting to the left of our experience section is your skillset. Let's dive into this side-column. This should include a list of your technical (hard) skills only. Hard skills are the unique abilities that you MUST have to exceed at your job. This means coding knowledge for programmers, video editing for film editors, and accounting for finance folks.
The hard skills should ideally be paired with software/tech knowledge i.e. what tool are you using to do apply the skill.
In my case, I paired it like this:
Video Editing (Adobe Premiere Pro CC)
PPC & SEM (Google Ads & Facebook Ads)
Email marketing (MoEngage & Insider)
But if the pairing-up doesn't work for you, you can divide this column into your skills, and the software you're familiar with, listed separately. Also, if you know more than one language, you might want to group them under this column itself.
---
6. Certifications
Below the skillset or on the top of your next page, you should share the online certifications or awards/trophies/medals/honors that you've collected over time. As I've explained before, this is a great way to build credibility because it shows that you're serious about testing and improving your skills.
So you can follow this format when you're listing them down:
Cert/course name (offering company)

Month & year
Marks/grade
Expiry date (if any)
Credential ID (if any)
Here's an example: Introduction to Video Editing (by Coursera) May 2020 (Test score: 7/10). Expires May 2025. Credential ID: 1845893413. 
---
7. Volunteering
Moving on, lets talk about your philanthropy. Volunteering builds a subtle case for your character. It shows that you have empathy, and that you care about improving this world, not simply profiting from it. So you should definitely mention any charity/free work you've done for N.G.Os.
After highlighting the name of the organization in the heading, and your duration there in the subhead, you can use these templates for your bullet points (don't write more than 2-3 or you'll cram up the data):
Taught English to 50 kids for 3 months in a government school @ Melaka
Helped with 100+ rescues in treating stray dogs & cats during monsoon season
---
8. Freelancing
Next up, you can make a brief reference to any freelance projects or businesses you've set up on your own. Showing a huslter's spirit increases your score. But before you mention these experiences, just check if your clients are okay with you revealing the relationship because some clients don't appreciate having to reveal their project details- like who they hired to do the job.
That being said, if you're into research (Ph.D.), you can swap this section with a list of your research papers or journal assignments. In fact, for research-focused people (who are not targeting industry jobs), you may choose to prioritize your paper/thesis/final-year-project submissions instead of the "work experience section."
Use this format when you're mentioning academic stuff:
Paper Title (Journal, Issue, Pages)

Topic
Year, Month
Brief description about your study & results
---
9. Education
Lastly, you must list your education at the very end of page 02 because your experience is what employers are more interested in, generally.
The only case education in which education would come on top (page 01) is when you're applying for entry-level positions in highly specialized fields that require certain qualifications to even consider you. Medicine, MBBS, nursing, or law are just some examples- you can't be hired as a doctor without holding a doctor's degree!
So my suggestion is that you just have to research how important your qualification is for the job you're applying to, and then decide what you want to prioritize.
In any case, you can follow this format for various levels of your education:
UNIVERSITY/SCHOOL/ACADEMY :: Course
Start Year – Graduation Year (duration in years or months)
Grades/percentage received (don't assume the recruiter knows your grading pattern and mention the maximum "out of" score, too!)
Any achievement/award/cert during your study here
Involvement in any club/activity/event
---
10. Links
Those were the 9 main sections of your C.V. But to go a step further, you should also consider including links to some online profiles. Here are a few examples:
LinkedIn
Skype ID
Behance/Dribble
Portfolio Website Link
Blog (if you have one)
Instagram/FB Profile
Instead of having ugly long URLs, just type out plain text in Canva and then hyperlink this text in Sejda's PDF editor so that recruiters can directly click on the words and go to the concerned webpages.
---
Case Studies
That brings us to the end of our discussion on crafting your C.V. Hope you got a good idea of the 10 sections that make up the power format.
Now although I've provided a lot of technical advice, note that these are only rough guidelines to take cues from, and not strict rules that you should follow. In fact, breaking some norms might help you stand out.
So if you're a rebel and like to walk on the road less taken, check out 3 of my favourite case studies of people who dared to experiment with their C.V, and ended up with amazing results!
Tatum Van Dam: Personalize your pitch
When this budding freelance blogger applied to Spotify, she designed her entire C.V to imitate a Spotify playlist. On her LinkedIn post, she says, "Knowing that a five megabyte PDF file will determine my fate of a potential internship, I wanted to make my resume stand out from the standard black-and-white-Times-New-Roman layout. With a simple Google search of Spotify's official font and colors, along with a quick Photoshop session, I tailored my resume to the likes of the company."
What I love about this case is how personal and targeted it is. So if you're applying to a particular app or online brand, do try to replicate their interface. It makes you look resourceful and creative.
Ankita Chawla: Up your social game
Social is a powerful tool for mass communication so if you want to gain the attention of many employers in one go, try doing a wild campaign like Ankita. She converted her Instagram handle @hireankitachawla into a living, breathing summary about her strengths, and passions. The result? She was approached by two dozen giants, and eventually hired by Deloitte.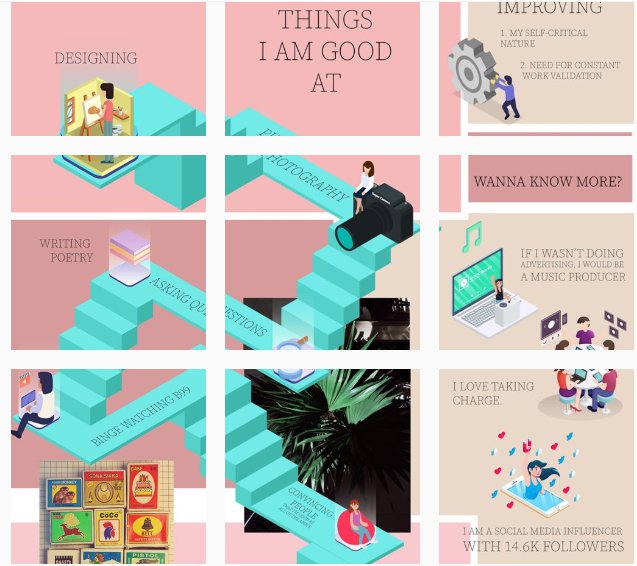 What I love about this case is the ad-hoc practical application of her abilities. She doesn't just say she's good at designing; she actually shows it by designing a creative social grid. Now that's a powerful statement!
Mark Leruste: Shoot a Video
Everybody prefers watching a video to reading a long blog like this one (I'm already working on converting it into YouTube series). Videos are shorter, easier to digest, more engaging, and easier to share. They give us the opportunity to tell stories, rather than simply laying out facts.
So all perks considered, it's a wise move to complement your written doc with a video C.V (or cover letter). Remember, you're on camera, so try not to be all too serious and rehearsed. You're free to play with a unique style of humor (self-deprecating, if possible) and be spontaneous. Check out how Mark brought out his authentic personality and made a unique case on YouTube:
I obviously think the animations are cool. But more so, I love how he's so funny and witty in his speech. So if you don't have the technical video skills, don't give up just yet. You can still shoot a basic video in a quiet environment, simply talking to your mobile screen. As a recruiter, I'm more interested in how you tell your story- it's the words that matter more than the shiny transitions.
If you don't have Adobe Premiere Pro CC or Final Cut Pro (for Mac), you can edit and export this video for free on Kapwing or string your scenes in a collage/animation with Google Photos. The value is in how you use the resources you have, so make no excuses!
---
Common Doubts
Those were the 3 best cases I found online. EnhanceCV has more examples if you want to explore as inspiration. Let me know in the comments if you have any favourites!
Now before we say goodbye for the day, let's wrap up this episode with some F.A.Q.s.
I don't have any experience. What now?
The traditional format for a C.V is experience-based, much like the one I showed you. But for fresh grads, it can be difficult to fill up your experience section. In this case, focus more on how you've used specific skills in your projects and assignments.
Here are some suggestions:
Swap the usual company+position header with titles of your group/solo projects, and for the bullet points, just list out your unique contribution in completing the said assignments.
Enroll in for FREE courses from these websites. Get certifications to prove that you at least know your job, even though you're yet to gain real experience.
Volunteer for charities, youth clubs like Rotaract or AIESEC, hobby groups, or service organizations in your city. Get involved as a committee member. So even if you don't have full-time experience, you can at least get some part-time experience, and help a good cause along the way.
I have gaps. How do I address them?
You don't have to do any explaining in the C.V.
If you're showing a gap of more than a year between two workplaces, it's going to come up in the interview so save your answers for that time. You can prepare a diplomatic response as follows:
Don't mention mental illness or severe personal problems that might weaken your case. There's no need to go into murky details; they'll only end up overwhelming you emotionally.
Shift the conversation to how you worked on improving yourself during this gap. What courses or activities did you do sitting at home? Did you do any part-time gigs? How did you use your lay-off time productively to skill up?
That being said, if the gap is really bothering you, fill it up by combinging your volunteering or part-time experiences along with your full-time (instead of keeping them separate) to make it look like one big section.
And if doing that doesn't make you feel any better, just push your "education" above the "experiences" so that the worse-off section comes later on page 02.
Should I customize my C.V for every application?
No, you shouldn't. Many gurus will tell you to take the pains. But I don't believe that's realistically practical or efficient when you're going to be applying for hundreds of jobs every day.
So you should decide which companies are your highest priorities, and only customize your application for those Grade-A players. Give more attention to applications that really matter to you, or you'll end up draining your energy for no good reason.
But which elements can you customize? Here are some ideas:
Tagline – Match with your role
Keywords in the job description – match with your skills
Relevant experience – prioritize the roles/skills that can be transferred to your job
Summary – You can mention in 1-2 lines (in the end) why you aspire to work here
---
Up Next…
And finally, that brings us to the end of today's episode. Thanks for coming on board. I'm enjoying this journey with you. Next, we'll be discussing the yin of this yang- the document that compliments your C.V- the cover letter.
---
Explore other episodes in this series!
---
Want to get to know me more? Here are my deets. hmu!